What a crazy month. Our little man is growing fast. Almost too fast for our liking (though there are some things are really nice to not worry about, but more on that later).
Over the last few weeks, Hayden has started to become more like a little human, and less of just a little human-shaped eating and pooping machine. He's still a little poop monster that eats all the time, but it's become far better and manageable. He's now sleeping through the night (mostly) due in part to our feeding/sleeping/awake schedule.
Getting to bed before 11pm has become more difficult for us since his day runs 7am to 10pm, but the benefits of a 9 hour night for the little guy is a worthy tradeoff. In addition to Hayden sleeping at night, he's made some other great advances. He's now got enough control over his head to hold it up all by himself. This also means that when he's awake, really the only thing he wants to do is sit up and look at everything. For the first week or so, he would only turn his head to the right. This was both funny to watch, and also funny to see him try and figure out how to turn his head further in order to see someone that walked to the other side of him. Once he learned to turn his head the opposite direction, he figured out that he could scan (and re-scan and re-scan) a room. It sometimes almost looks like he's shaking his head "no" with how much he's looking around.The nice thing is that this means we can not be quite so concerned all the time about providing full head support all the time.
He's also getting far better at the various activities that used to be far more "traumatic" to undertake. Things like a bath are now no longer met with tears and cries. The same goes for tummy time, and even more important, crib time. He now spends hours in his crib a day, and for the most part doesn't require much intervention to keep him happy or asleep.
His personality is also starting to develop. In addition to beginning to recognize voices of people he knows, his laughing and smiling are getting far more voluntary. It's hard not to just sit there and laugh with him for as long as he'll be up to it.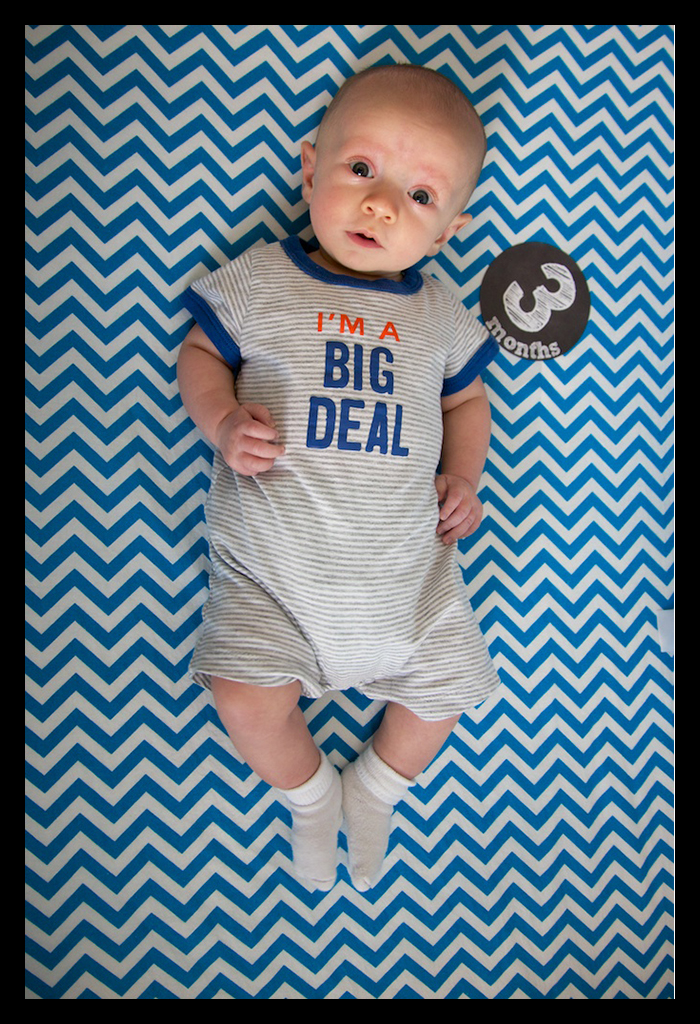 Crazy Stats
Milk produced for month 3: 5.52 Gallons
Milk consumed for month 3: 5.75 Gallons
Diapers changed for month 3: 238