Time sure has flown by. I remember sitting down with Human Resources at work when figuring out what my paternity leave was going to look like and figuring out that Hayden would be just about 7 months old when both his mother and I would be back to work. Now, we are both back to work, and we've got a rambunctious 7 month old that we just can't seem to get enough of.
In the last few weeks, he's becoming far more expressive. Being bored, tired, or frustrated are all starting to get slightly differentiated. Excitement and happiness also have different levels now; sometimes he gets so excited he can't contain it and starts bouncing up and down with what can only be described as the biggest smile his little face can hold.
We are also continually surprised by how strong he is getting. There's something about seeing a small baby, a small human being, that makes you initially think of fragility. But then, when he's trying as hard as he can to resist a diaper change, you're shocked that you're not able to hold this little 18ish pound baby still.
That's it for this month. We couldn't be happier with our little man, and can't wait to see what the next month holds.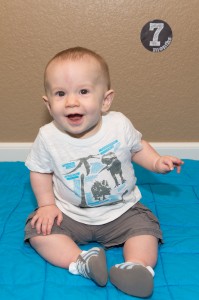 Crazy Stats:
Milk consumed: 6.16 gallons
Diapers Changed: 267
Food consumed: 17.67 cups