This is a cross-post from my other website, KurtisFranklin.com, where I detail my work on a 1950 Willys Jeep. A decidedly different project than this. 
Turns out having a kid not only takes a lot of the time I used to have, but also the money that would be necessary for me to continue working on Ike.
That's not to say it's been without Jeep-related fun. In fact, today marked the start of a new Jeep project. No, it won't take the place of Ike, but it will let me have a little Jeep fun while also passing the torch to Hayden.
What could I possibly be going on and on about? Well, here's the start of the new project:
Yeah, it's a little …. different than my normal projects. It's got a LONG way to go. First things first, I had to tear the whole thing down. Part of this felt very much like my tear down of Ike. I will say though that the screws were FAR less rusted and in need of brute force than the 1950's version.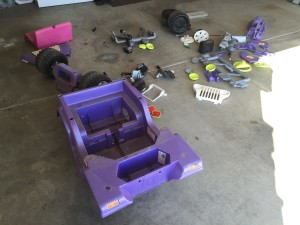 There was quite a bit of muck, grime, mud, grass, and what I can only hope was anything but animal poop. After disassembly, the first step was the initial wash. It looks better than it did, but there's still a lot of work that needs to be done.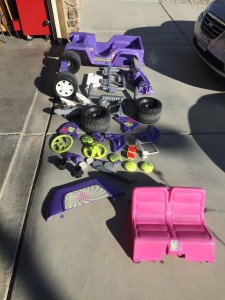 I've got some big plans for this little Jeep. It's not quite the same as Ike, but it'll do for now.